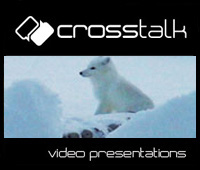 A beszélgetés-sorozat meghívottjai magyar és külföldi videó- illetve média művészek. Az esemény célja elsősorban a kortárs magyar videó művészettel foglalkozó alkotók bemutatása a külföldi
szcéna képviselőivel egyetemben, másodsorban a videó művészet, mint olyan, megismertetése, felkarolása.
Meghívott előadó: Nina Czeglédy
Független médiaművész, kurátor és író, számtalan nemzetközi projekt résztvevője, fesztiválok, fórumok, űhelyek szervezője és előadója világszerte. Kanadában és Európában egyaránt dolgozik. Kiállított az COLS csoporttal (www.icols.org), az ISEA2004-en Ausztráliában és az USA-ban. Ugyanabban az évben a Girls&Guns vándor-csoportos kiállításán is.
Munkáin keresztül megfigyelhető Nina fokozott érdeklődése a tudomány, a technológiai és a művészeti együttes hatásaira. Oktatóként és előadónként számos egyetemen, konferencián tartott előadást, publikációi jelentek meg világszerte. Előadott a Cyber@arts Bilbao-n; a Dakar Biennálén Szenegalban; ISEA2004-en, a 7. Workshop on the Space, the Arts-n, az 55. International Astronautical Kongresszuson Vancouverben, Newforms Fesztiválon Vancouverben és a QI and Complexity Konferencián Pekingben. Nina Czegledy kurátora több mint 35 digitális művészet-videó programnak több mint 25 országban és alapítója a Points of Entry, az első Kanadai- Ausztrál- Új Zélandi digitális művészeti együttműködésnek.
Nina Czeglédy többek között elnöke a kanadai Critical Media intézetnek. A LEAuthors és a Leonardo SpaceArt Network tagja, a Jasmin csoport moderátora és a Leonardo Education fórum vezető helyettese.
Bővebb információk: http://www.crosstalk.hu/2009_site/2009_video_hu.html vagy Török Adrien: adrien.torok@gmail.com