kiállító művészek:
Christoph Draeger [CH]
Khaled Jarrar [PS]
Avi Mograbi [IL]
Public Movement [IL]
Joanna Rajkowska [PL]

kurátor: Lázár Eszter
megnyitó: 2012. április 27. 19h
megnyitja: Kékesi Zoltán
2012. május 16-án, szerdán 18 órától tárlatvezetést tartunk Christopher Draeger
részvételével. Mindenkit szeretettel várunk!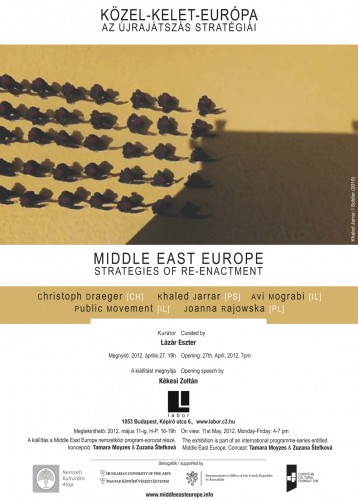 /////
/////
/////
////
/////
/////
////
////
/////
////
////
////
///
/////
////
/////
////
A Közel-Keletről, Izraelről, Ciszjordániáról vagy a Gázai övezet eseményeiről szóló képriportokból, tudósításokból gyakran leegyszerűsítő vagy félreérthető következtetéseket lehet levonni a valóságról. Amíg hozzánk elsősorban a médián keresztül jutnak el a Közel-Keletet ábrázoló képek, a palesztin-izraeli konfliktus világfigyelemmel kitüntetett eseményei, az ott élők, így a palesztin és izraeli művészek számára is valós élményeket jelentenek. Európai kontextusba helyezve a művek sokszor nehezen értelmezhetőek a téma történelmi, politikai mélysége és komplexitása miatt. Ugyanakkor, amikor európai művészek munkáit helyezzük abba a környezetbe, amelyre a közel-keleti művészek reflektálnak, az európai munkák jelentése bővül újabb árnyalatokkal.
Tamara Moyzes Közel-Kelet-Európa című utazó projektje a fenti jelenségre hívja fel a figyelmet a politikai művészet körét véve alapul. Felveti az alkotó felelősségének kérdését, miközben azt vizsgálja, hogyan változik egy alkotás értelmezése, ha más kulturális kontextusba helyezzük. A kiállítás-sorozatban szerepelnek mind a nagypolitikával, mind az egyéni sorsokkal, terrorizmussal és békeaktivizmussal, közérthető szlogenekkel foglalkozó, vagy csak az adott kontextusban értelmezhető alkotások, ugyanakkor egyes művek rákérdeznek a média vitathatatlan szerepére és felelősségére is.
A Laborban bemutatásra kerülő videóválogatás az eredeti koncepciót szem előtt tartva, az újrajátszás (re-enactment) technikáival és stratégiáival foglalkozik. Az újrajátszás az elmúlt évtizedben különösen a performansz és a médiaművészet területén vált a kortárs művészek kedvelt eszközévé (Life, Once More, Witte De With, Rotterdam, 2005; History Will Repeat Itself, Kunstwerke, Berlin, 2007; Sydney Biennále, 2008).
A Budapesten kiállító művészek is az újrajátszás technikáit alkalmazva vállalkoztak a kiválasztott események, élmények közvetítésére. Számukra ez lehetőség arra is, hogy a palesztin-izraeli "konfliktus-zóna" traumatikus eseményeinek különböző intenciójú és intenzitású felidézésével egyfajta alternatívát kínáljanak a médián átszűrt, sokszor leegyszerűsített és egyoldalú tájékoztatással szemben; az adatok és egy-egy kimerevített képkocka helyett komplexebb, eltérő hangsúlyokat és árnyalatokat is érzékeltető narratívákat kínálnak fel.
Nemcsak a személyes traumák feldolgozását segítheti az újrajátszás módszere. A történeti távolság ellenére is érzelmeket és indulatokat generáló események felidézésére is szolgál. Az 1972-es müncheni olimpián történt túszdrámának (és a média felelősségének) felelevenítése, a dzsenini arab fiatalok pszicho-dráma workshopja és annak dokumentálása, vagy akár az 1994-es hebroni merényletet feldolgozó film szereplőválogatásának bemutatása nyilvánvalóan más-más szándékkal készült és más-más módszerrel valósult meg. Ami azonban a különbségek ellenére összekapcsolja a Laborban bemutatásra kerülő filmeket, az a múltbeli események relevanciája az itt és a most számára. "A művészi újrajátszás nem a múlt affirmatív visszaigazolása, hanem sokkal inkább a jelent kérdőjelezi meg azon (közel)múltbeli események felidézésen keresztül, melyek kitörölhetetlen nyomot hagytak a kollektív emlékezetben."[1]
A Közel-Kelet-Európa kiállítás-sorozat koncepciója: Tamara Moyzes
További információ:
www.middleeasteurope.info
http://www.dox.cz/en/accompanying-events/middle-east-europe-reflection-of-the-middle-eastern-conflict-in-art-activism-and-media

támogatók:
Nemzeti Kulturális Alap, Magyar Képzőművészeti Egyetem, European Cultural Foundation, Representative Office of the Czech Republic Ramallah
megtekinthető: 2012. május 18-ig, H-P: 16-19h
---
[1]
Will Repeat Itself: Strategies of Re-enactment in Contemporary (Media) Art and Performance,
in:
History Will Repeat Itself,
ed. by Inke Arns, Gabriele Horn, Revolver Publishing, Frankfurt am Main, 2008.