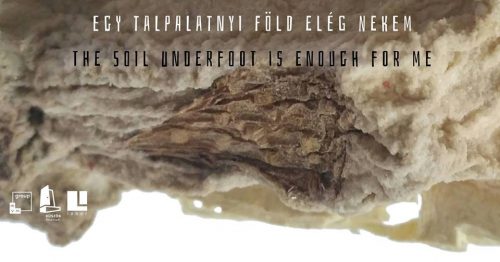 kurátor: Kocsis Barbara
Megnyitó: 2018. május 29. kedd 19:00
A kiállítást megnyitja: Nagy T. Katalin, művészettörténész
Megtekinthető: 2018. május 29 – június 10.
_ _ _
"A kiállítás a nagymamám emlékéhez, valamint a valláshoz való személyes viszonyához kötődik. Különféle médiumú régebbi munkáim mellett legújabb projektem is bemutatásra kerül a kiállításon, mely egy krumpliból faragott szoborsorozat.
A krumplik szorosan kapcsolódnak a mezőgazdasági munkákhoz, különösen az otthonunkban, ahol az egész család részt vállalt termesztésükben. Ez az ismétlődő munkafolyamat rendkívül monoton, egyfajta meditáció, imádság.
A falusi nép életében a munka és a vallás organikus részét képezte az életnek. A nagymamamám polca tele volt vallásos ereklyékkel: kalendáriumok, szentek képei, Szűz-Mária figurák és feszületek. Ezen ereklyék burgonyába való másolásával próbálom megőrizni egy élet emlékeit, amelyben a munka és a vallás elkülöníthetetlen egységet alkotott."
Megtekinthető: 2018. május 29 – június 10. (előzetes időpont egyeztetés: +36 30 240 0197 vagy hagyjon üzenetet a Labor facebook oldalán)
Az esemény a Küszöb Fesztivál keretében valósul meg.
_ _ _
Gergő Bánkúti: 'The soil underfoot is enough for me'
Opening: 29th May 2018 7pm
Curator: Barbara Kocsis
Opening words by Katalin Nagy T. art historian
'Тhe exhibition is closely connected to the memory of my grandmother and her personal relation to religion. Besides my old works in different media, my most recent project will be presented: a series of sculptures carved from potatoes.
Potatoes are tightly linked to agricultural work, especially in my home where our whole family took part in the process of growing. Eminently monotonous, this is a repetitive working procedure, a sort of meditation or a prayer.
In the life of the peasantry work and religion were always organic elements of life. On my grandmother's shelf a lot of religious relics could be found: crucifixes, pictures of saints and figures of Virgin Mary. Copying these relics into potato sculptures I try to preserve memories of a life in which work and religion composed an inseparable unity.'
On view: 29th May 2018 – 10th (based on previously agreed dates: +36 30 240 0197 or leave a comment at the facebook page of the Labor Gallery)
The event is part of the Küszöb Festival.
_ _ _
A Küszöb Fesztivál tizenegy kortárs művészeti intézmény együttműködésén alapul, középpontjában a pályakezdő képzőművészek lehetőségei, problémái állnak. Az egyhónapos eseménysorozat koordinátora Don Tamás, a MODEM kurátora, mesterszakon írt szakdolgozatában foglalkozott először a témával. Az általa készített interjúk, kérdőívek, kötetlen műtermi beszélgetések rávilágítottak arra, hogy a felsőoktatási intézményrendszerből kikerülve a pályakezdő fiatalok légüres térbe kerülnek, mivel hiányoznak azok az intézmények, amelyek segítenék az "átzsilipelést". További problémákat jelent, hogy tanulmányaik során kevés útmutatást kapnak arra vonatkozóan, hogyan is tudnának sikeresen integrálódni a művészeti közegbe.
Ezeket kiküszöbölendő a fesztivál egy új mikro-intézményrendszeri struktúra létrehozására tesz javaslatot. Célja a fiatal képzőművészek, és alkotásaik bemutatása egy szélesebb közönség előtt; ennek keretében 2018 májusában tizenkét egyéni és egy csoportos kiállítás valósul meg Budapesten.
A pályázatra beérkezett projektek közül a befogadó intézmények demokratikusan választhatták ki a szellemiségükben leginkább a profiljukba illeszkedőt.A kölcsönös szimpátián alapuló közös munka és a nyitás nemcsak új projektek megszületését teszi lehetővé, de egy újfajta együttműködésen alapuló hozzáállás kialakulásához is vezethet. Fontos kiemelni a résztvevő intézmények sokszínűségét: nagyon eltérő működésű, fenntartású, profilú kiállítótérről van szó, de valamennyi lényegesnek tartja a pályakezdő művészek támogatását.
Honlap: https://kuszobfesztival.wordpress.com/
Facebook: https://www.facebook.com/kuszobfesztival/
Instagram: https://www.instagram.com/kuszobfesztival/
A fesztivál főszponzora: MVM Magyar Villamos Művek zrt.
A Küszöb Fesztivál médiatámogatója az Artmagazin Online
_ _ _
Támogató:
Nemzeti Kulturális Alap
http://www.nka.hu/