Nyilvánosságok teremtése – világok létrehozása
A projekt-kiállítás mint művészeti gyakorlat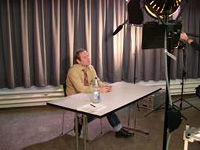 A tranzit.hu által kezdeményezett Művészetelméleti és gyakorlati szabadiskola áprilisi szemináriumát Marion von Osten művész, kurátor vezeti.
A klasszikus kurátori vagy tudományos megközelítéssel szemben a "projekt-kiállítások" a legkülönbözőbb tudásterületekről vonnak be résztvevőket a koncepció kialakításába, vagy a kiállítás megvalósításába. Az a cél, hogy ebben az ideiglenes kontextusban az egyén megváltoztathassa alanyi pozícióját. Erre művészetteoretikusok és művészek közösen dolgoztak ki elméleti és vizuális kifejezésformákat. Az 1970-es évek klasszikus stratégiái mellett, melyek az ellennyilvánosság létrehozására irányultak, a kiállítás, mint kommunikációs forma is kialakíthat nyilvánosság-, tudástermelési és terjesztési modelleket. A "projekt-kiállítás", mint művészeti gyakorlat beírja magát a modern és posztmodern művészetről szóló vitákba, valamint a teoretikus és politikai csatározásokba is. Felvállalja a feminista pozíciók és a gender-elméleti diskurzusok követeléseit, a nem dichotóm alanyi pozíciók kialakítására és hatalommal való felruházásukra vonatkozóan. Ezen kívül a munkafeltételek és a kollektív szerzőség problémakörét is felveti. A művészet bemutatására szolgáló terekkel szemben, a "projekt-kiállítás" egyértelműen állást foglal amellett, hogy a cél nem egy téma illusztrálása, hanem saját téziseinek, módszereinek, formáinak kidolgozása, valamint diskurzus és gyakorlat kialakítása, amely radikálisan megkérdőjelezi a művészeti tér és a hozzá kapcsolódó reprezentációs rezsim létjogosultságát. Ezáltal a "projekt-kiállítás" a folyamatosan épülő ellennarratíván keresztül alakítja ki az ellennyilvánosságot.
A szemináriumon a részvétel ingyenes, jelentkezési határidő angol nyelvű motivációs levéllel az office@tranzitinfo.hu címen március 31.
---
Marion von Osten kurátori, művészi és elméleti területeken dolgozik, melyeket az olyan médiumok kapcsolnak össze, mint a kiállítás, az installáció, a videokészítés és szövegírás, az előadás-perfomanszok, konferenciák és filmprogramok. Fő kutatási területe a kulturális munka körülményeinek megváltozása a poszt-kolonialista társadalmakban, az egyén technológiái és a mobilitás kormányzása. Alapító tagja a Labor k3000–nek, a kpD – kleines post-fordistisches Drama–nak és a berlini Center for Post-Colonial Kowledge and Culture-nak. 2006 óta az Academy of Fine Arts Vienna tanára. 1999 – 2006 között az Institute for the Theory of Art and Design & Institute for Cultural and Gender Studies, HGK Zürich tanára és kutatója; a Malmö Art Academy Critical Studies Programjának előadója. 1996-1998 között a Shedalle Zürich kurátora. Berlinben és Bécsben él.
Bővebb információk: www.tranzit.org
Projekt kiállítások (válogatás): In the Desert of Modernity. Colonial Planning and After. (2008) House of World Cultures Berlin; Projekt Migration. (2003-2006) Kölnischer Kunstverein (Kathrin Rhomberggel) és a TRANSIT MIGRATION (2003-5) kutatási projekt, University Frankfurt és Institute for theory of art and design (ith, ZHdK, Zurich); Atelier Europa. (2004) Kunstverein Munich; Be Creative! Der kreative Imperativ. (2003) (Peter Spillmann-nal) Museum für Gestaltung, Zurich ; Money Nations I-II (1998-2001) WUK Vienna / Shedhalle, Zürich; Sex&Space I-II (1996-97) Shedhalle Zürich / steirischer herbst, Forum Stadtpark.
Művészi projektek (válogatás): I am like that Anyway (2006-2009), Four Reenactments, "Lapdgos of the Bourgoisie", Gasworks London, Plattform Istanbul, Townhouse Gallery Cairo, Arnolofini Bristol, This Was Tomorrow (2008), internet-projekt, a Labor k3000-rel, Der Park (2007), kutatási projekt, kiállítás és videó Peter Spillmann/ Katja Reichard/Marion von Osten, for Kunstraum Lakeside Klagenfurt, reformpause. (2006), installációk és intervenciók Campus területén, Kunstraum der Universität Lüneburg, MigMap – Governing Migration (2005), az európai határ és migrációs rezsim feltérképezése, és internetprojekt TRANSIT MIGRATON kutatócsoport és a Labor k3000 részvételével, "Projekt Migration", Kölnischer Kunstverein Cologne; Kamera läuft. Ein kleines post-fordistisches Drama. Video, 32 min, együttműködők: kpD, Brigitta Kuster, Isabell Lorey, Katja Reichard; Insert 1 – 4, (2004) négy installációs intervenció Simone Hain, Christiane Post, Karin Rebbert, Katja Reichard, Peter Spillmann és Axel John Wieder együttműködésével, "Common Property – Allgemeingut, 6. Werkleitz Biennale Halle (Saale)"
Publikációk (válogatás): Turbulente Ränder. Neue Perspektiven auf Migration an den Grenzen Europas. Ed. TRANSIT MIGRATION Forschungsgruppe, transcript Bielefeld 2007, Projekt Migration, ed. Kölnischer Kunstverein et al, Dumont Verlag Köln 2005, Norm der Abweichung. T:G 04, ed. Marion von Osten, Voldemeer / Springer 2003, Money Nations – Constructing the Border – constructing East-West. ed. von Osten / Spillmann, Edition Selene Wien 2003, Be Creative! Der kreative Imperativ! ed. von Osten / Spillmann, Edition Museum für Gestaltung Zürich 2002, Das Phantom sucht seinen Mörder. Ein Reader zur Kulturalisierung der Ökonomie. ed. Hoffmann/ von Osten, b_books, Berlin 1999