Producing Publics- Making Worlds
Project Exhibitions as Artistic Practice
seminar with Marion von Osten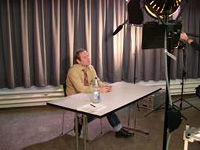 As opposed to a classical curatorial or academic approach, the "project exhibitions" include people from most diverse fields of knowledge to develop the concept or the realization of the exhibition. The intention is to be able to change subject positions in this temporary context. Theoreticians and artists jointly elaborated theoretical and visual forms of articulation. Alongside the classical strategies of producing a counter-public in the 1970s, the communication format of an exhibition could and can establish new models of the public, of production and distribution. The "project exhibition", as an artistic practice, inscribes itself in the debates on modern and postmodern art, as it does in political and theoretical discussions and battles. It takes up the demands of feminist positions and gender-theoretical debates in regard to the establishment and empowerment of non-dichotomous subject positions, as well as the questions relating to labor relations and collective authorship. Opposed to the space of art, the "project exhibition" unambiguously takes a stand in not illustrating a theme but instead developing its own theses, methods and formats, establishing a discourse, a practice that radically questions the space of art and the regime of representation linked to it. By doing so, the "project exhibition" creates a counter-public by building a counter-narration in the making.
To take part in the seminar, please send a motivation letter to the office@tranzitinfo.hu address until March 31. Participation in the seminar is free.
---
Marion von Osten works with curatorial, artistic and theoretical approaches that are brought together through the medium of exhibitions, installations, video and text productions, lecture performances, conferences and film programs. Main research interests are the changed conditions of the production of cultural work in post-colonial societies, technologies of the self and the governance of mobility. Founding Member of Labor k3000, kpD – kleines post-fordistisches Drama and the Center for Post-Colonial Knowledge and Culture, Berlin. Since 2006 Professorship at the Academy of Fine Arts Vienna. From 1999 – 2006 Professor and researcher at the Institute for the Theory of Art and Design & Institute for Cultural and Gender Studies, HGK Zurich; lecturer at Critical Studies Program, Malmö Art Academy; From 1996-1998 curator at Shedalle Zurich. Lives in Berlin and Vienna.
Project exhibitions (select.): In the Desert of Modernity. Colonial Planning and After. (2008) House of World Cultures Berlin; Projekt Migration. (2003-2006) at Kölnischer Kunstverein (with Kathrin Rhomberg) and the research project TRANSIT MIGRATION (2003-5) at the University Frankfurt and the Institute for theory of art and design (ith, ZHdK, Zurich); Atelier Europa. (2004) Kunstverein Munich; Be Creative! Der kreative Imperativ. (2003) (with Peter Spillmann) Museum für Gestaltung, Zurich ; Money Nations I-II (1998-2001) WUK Vienna / Shedhalle, Zurich; Sex&Space I-II (1996-97) Shedhalle Zurich / steirischer herbst, Forum Stadtpark.
Artistic projects (select.): I am like that Anyway (2006-2009), Four Reenactments, "Lapdgos of the Bourgoisie", Gasworks London, Plattform Istanbul, Townhouse Gallery Cairo, Arnolofini Bristol, This Was Tomorrow (2008), Internet-project , with Labor k3000, Der Park (2007), research project, exhibition and video production by Peter Spillmann/ Katja Reichard/Marion von Osten, for Kunstraum Lakeside Klagenfurt, reformpause. (2006), Installation and Interventions on the Campus, Kunstraum der Universität Lüneburg, MigMap – Governing Migration (2005), Mapping and Internetproject about the European border and migration regime with the TRANSIT MIGRATON research group and Labor k3000, "Projekt Migration", Kölnischer Kunstverein Cologne; Kamera läuft. Ein kleines post-fordistisches Drama. Video, 32 min, in collaboration with kpD, Brigitta Kuster, Isabell Lorey, Katja Reichard; Insert 1 – 4, (2004) four installative interventions in collaboration with Simone Hain, Christiane Post, Karin Rebbert, Katja Reichard, Peter Spillmann and Axel John Wieder, "Common Property – Allgemeingut, 6. Werkleitz Biennale Halle (Saale)"
Publications (select.): Turbulente Ränder. Neue Perspektiven auf Migration an den Grenzen Europas. Ed. TRANSIT MIGRATION Forschungsgruppe, transcript Bielefeld 2007, Projekt Migration, ed. Kölnischer Kunstverein et al, Dumont Verlag Köln 2005, Norm der Abweichung. T:G 04, ed. Marion von Osten, Voldemeer / Springer 2003, Money Nations – Constructing the Border – constructing East-West. ed. von Osten / Spillmann, Edition Selene Wien 2003, Be Creative! Der kreative Imperativ! ed. von Osten / Spillmann, Edition Museum für Gestaltung Zürich 2002, Das Phantom sucht seinen Mörder. Ein Reader zur Kulturalisierung der Ökonomie. ed. Hoffmann/ v