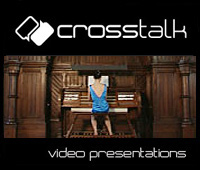 Monthly one videoartist will be invited.
The aim of this program is to promote hungarian and external video artists and to help video art to became part of the art commerce in Hungary too.
Sixth invited artist: Hajnal Németh
2000-ben végzett a Magyar Képzőművészeti Egyetem Intermédia Tanszékén, jelenleg Berlinben él és alkot, a videó, a fotó, illetve az installáció műfajában.
Korábbi, 2002 előtt készült műveiben – szerepjátékok, átváltozások révén – sokszor saját magát használja modellként, 2004 óta készít olyan videómunkákat, amelyek a zenét és a zenei ipart, mint modellt használják példaként egy elvonatkoztatott valóság ábrázolására.
A Sammy Listens Sammy Back című videó, a Recording Room videótrilógia (Try Me, Break Free, Turn Your Lights), a Guitarsolo című videó a kapcsolódó fotósorozatokkal, valamint a Desney-Destiny audiovizuális, mozgóképes installáció egy kb. öt éve elkezdett program eredményei. Koncepciójuk a produkcióorientált popzenei világ hátterében zajló munkának a dokumentálása. Az egyszerűnek tűnő alkotói választás messzire visz: a pár perces, zenét, képet és ritmust összeszövő, üdítő filmekre ráhangolódva a valóság és az illúzió kérdéskörét érintő felismerésekig juthatunk.
Legutóbb készült munkája az Air Out egy orgonista nőt mutat hátulról a monumentális hangszer elött ülve, ahogy Bach Air című darabját játsza.
Kettős folyamatot látunk: mialatt a kép folyamatosan kitágul, a levegő fokozatosan kifogy az orgonából. A levegő önkéntelenül is metaforikus szintre helyeződik: mintha nemcsak a hangszert hagyná el, de a testet is azzal együtt, amit itt talán léleknek nevezhetünk. Test és lélek, hang és intellektus, orgonista és hangszer egyensúlya átmeneti, amely a két szélső végpont között csak ideiglenesen áll helyre vagy teremtődik meg.
Németh Hajnal több rangos nemzetközi kiállítóhelyen szerepelt videómunkáival, mint pld.: Moderna Museet, Stockholm, Tate Modern, London, Temporären Kunsthalle Berlin, The Kitchen, New York, Ludwig Museum, Budapest, Society Renaissance, Chicago, Musée d'Art moderne de Saint-Etienne, Art Museum Singapore
Further information:
http://www.crosstalk.hu/2009_site/2009_video_en.html
or Adrien Török: adrien.torok@gmail.com