Warning
: preg_match(): Compilation failed: invalid range in character class at offset 34 in
/var/www/labor.c3.hu/wp-content/plugins/nextgen-gallery/products/photocrati_nextgen/modules/nextgen_basic_tagcloud/package.module.nextgen_basic_tagcloud.php
on line
183
Warning
: preg_match(): Compilation failed: invalid range in character class at offset 34 in
/var/www/labor.c3.hu/wp-content/plugins/nextgen-gallery/products/photocrati_nextgen/modules/nextgen_basic_tagcloud/package.module.nextgen_basic_tagcloud.php
on line
183
Warning
: preg_match(): Compilation failed: invalid range in character class at offset 34 in
/var/www/labor.c3.hu/wp-content/plugins/nextgen-gallery/products/photocrati_nextgen/modules/nextgen_basic_tagcloud/package.module.nextgen_basic_tagcloud.php
on line
183
Warning
: preg_match(): Compilation failed: invalid range in character class at offset 34 in
/var/www/labor.c3.hu/wp-content/plugins/nextgen-gallery/products/photocrati_nextgen/modules/nextgen_basic_tagcloud/package.module.nextgen_basic_tagcloud.php
on line
183
Warning
: preg_match(): Compilation failed: invalid range in character class at offset 34 in
/var/www/labor.c3.hu/wp-content/plugins/nextgen-gallery/products/photocrati_nextgen/modules/nextgen_basic_tagcloud/package.module.nextgen_basic_tagcloud.php
on line
183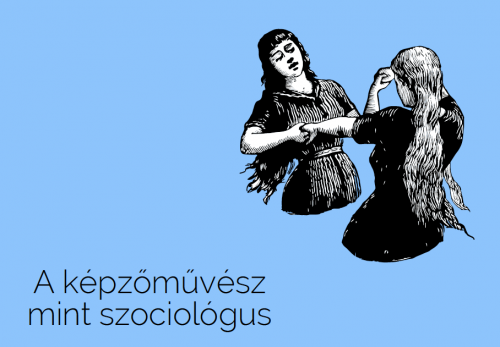 ☞ Az FKSE hagyományőrző éves kiállítása 2016 ☜
A Laborban és a Kisterem galériában folytatjuk öt helyszínes kiállítássorozatunkat, ahol ezúttal az FKSE "szociológus / politológus / aktivista", valamint "urbanista" alkotói mutatkoznak be.
Kiállító művészek (Labor):
Default Productions, Farkas Roland, Fischer Judit, Gosztola Kitti, Molnár Judit Lilla, Péter Ildikó, Simon Zsuzsanna, Süveges Rita, Szabó Eszter, Szacsva y Pál, Zellei Boglárka
Kiállító művészek (Kisterem):
Básthy Ágnes, Fischer Judit, Gruppo Tökmag, Schmied Andi, Vécsei Júlia
A kiállításokat május 13-án Konopás Judit & Jérôme Li­ Thiao­ Té, illetve Flohr Zsuzsi & Rudas Klára eseményei zárják (részletek hamarosan).
Külön köszönet: Kisterem
A képzőművész vajon mi?
A kortárs művészeti gyakorlatokat értelmező szerzők és elméleti szakemberek az egyes alkotói tevékenységek leírásakor gyakran élnek olyan hasonlatokkal, amelyekben a hasonló általában valamilyen nem művészeti tevékenységforma, hivatás, vagy foglalkozás. Ti., hogy jobban megértessék magukat, ugyanis a legtöbb ilyen leíró, elemző, értelmező esetben a képzőművész kifejezés elégtelennek bizonyul. Nem is csoda, hiszen egy olyan gumifogalomról van szó, amelyhez – lássuk be – igen nehéz konkrét jelentést társítani. Mondjuk ki, ízlelgessük: képzőművész. Talán már mindannyian túl vagyunk azon, hogy a szó hallatán egy párizsi manzárdszobában szűkölő kettéfagyott pablopicassot képzeljünk magunk elé. (Pedig ő is képzőművész.) Tovább forgatva szánkban a kifejezést talán felsejlik egy önképzőköri akvarell látványa is, a rágódás egy bizonyos pontján ott lesz Jeff Koons és Cicciolina, de sajnos egyik úton sem jutunk közelebb a jelölthöz. Az egyetlen tény, amit a képzőművész kifejezés takar összefoglaló fogalomként mindössze annyi, hogy aki ezzel a szóval definiálja önmagát az hirtelen a társadalmi megbecsültség egy viszonylag elfogadható, ám nem túl magas szintjére, a bölcsészek, tanárok, azaz a humán értelmiség halmazába rándul, (a pontosság kedvéért jegyezzük meg, hogy ott is inkább a perifériára).
Érthető tehát az az érv, hogy a szabatosság nagyjai, a szakszövegírók és az elmélészek nem elégednek meg ezzel az egyszavas definícióval, és hogy pontosítsák e kétes értékű konnotációkkal terhelt kifejezést, szövegeikben gyakran használnak olyan hasonlatokat, amelyekkel az alkotói gyakorlatokat egyéb, elsősorban nem a művészeti közegben végzett tevékenységtípusokhoz hasonlítják.
A Fiatal Képzőművészek Stúdiója Egyesület éves kiállítása 2016-ban a művészszerepek kihangsúlyozásával mutatja be az egyesület képzőművész tagjainak munkásságát egy öt helyszínen bemutatott válogatás anyagán keresztül.
Mit csinál egy képzőművész?
Milyen szerepet vállal a mindennapokban?
Milyen szerepbe bújik?
Milyen szerepet kap?
Milyen szerepbe kényszerítik?
Milyen szerepben tetszeleg?
A képzőművész vajon mi?
MŰVÉSZEK:
Ádám Anna – Gray Box Projects, Albert Ádám, Asztalos Zsolt, Bartha Máté, Barnaföldi Anna, Básthy Ágnes, Czene Márta, Dallos Ádám, Default Productions, Ember Sári, Fajgerné Dudás Andrea, Fátyol Viola, Farkas Roland, Fischer Judit, Flohr Zsuzsi, Gosztola Kitti, Gruppo Tökmag, Juhász Tamás, Kaliczka Patrícia, Kerekes Gábor, Keresztes Zsófia, Keresztesi Botond, Kocsi Olga Piroska & Varga Péter István, Kolozsvári Csenge, Konopás Judit Emese & Jérôme Li­ Thiao­ Té, Kovács Olívia, Kristóf Gábor, Kútvölgyi­-Szabó Áron, Martin Henrik, Molnár Judit Lilla, Molnár Zsolt, Murányi Mózes Márton, Orbán György, Péter Ildikó, Rudas Klára, Simon Zsuzsanna, Süveges Rita, Szabó Dorottya, Szabó Eszter, Szacsva y Pál, Schmied Andi, Szécsényi­-Nagy Loránd, Szemző Zsófia, Szigeti Gábor Csongor, Trapp Dominika, Vécsei Júlia, Zellei Boglárka, Zékány Dia
HELYSZÍNEK:
• Stúdió Galéria + 2-es műterem (1077 Budapest, Rottenbiller u. 35.)
Megnyitó: április 14., csütörtök 19.00
A kiállítást megnyitja: Seregi Tamás, esztéta
Nyitva tartás: 2016. április 15 – április 23.
Záróesemény: április 23., 18.00
• ArtBázis Összművészeti Műhely (1085 Budapest, Horánszky u. 25.)
Megnyitó: április 19., kedd 19.00
A kiállítás nyitóeseménye: Fajgerné Dudás Andrea performansza
Nyitva tartás: 2016. április 20 – április 29.
Záróesemény: április 29., 16.00
• 115-106 lakásgaléria (1137 Budapest, Katona J. u. 27. III. em. 12-es kapucsengő)
Megnyitó: április 26., kedd 19.00
Nyitva tartás: 2016. április 27 – május 6.
Záróesemény: május 6., 18.00
• Kisterem Galéria (1053 Budapest, Képíró u. 5.)
Megnyitó: május 3., kedd 19.00
Nyitva tartás: 2016. május 4 – május 13.
Záróesemény: május 13., 18.00
• Labor Galéria (1053 Budapest, Képíró u. 6.)
Megnyitó: május 3., kedd 20.00
Nyitva tartás: 2016. május 4 – május 13.
Záróesemény: május 13., 18.00
KURÁTOROK:
Juhász Anna, Mucsi Emese, Őze Eszter
ARCULAT:
Kosnas Robin
FOTÓK:
BARTHA Máté