Warning
: preg_match(): Compilation failed: invalid range in character class at offset 34 in
/var/www/labor.c3.hu/wp-content/plugins/nextgen-gallery/products/photocrati_nextgen/modules/nextgen_basic_tagcloud/package.module.nextgen_basic_tagcloud.php
on line
183
Warning
: preg_match(): Compilation failed: invalid range in character class at offset 34 in
/var/www/labor.c3.hu/wp-content/plugins/nextgen-gallery/products/photocrati_nextgen/modules/nextgen_basic_tagcloud/package.module.nextgen_basic_tagcloud.php
on line
183
Warning
: preg_match(): Compilation failed: invalid range in character class at offset 34 in
/var/www/labor.c3.hu/wp-content/plugins/nextgen-gallery/products/photocrati_nextgen/modules/nextgen_basic_tagcloud/package.module.nextgen_basic_tagcloud.php
on line
183
Warning
: preg_match(): Compilation failed: invalid range in character class at offset 34 in
/var/www/labor.c3.hu/wp-content/plugins/nextgen-gallery/products/photocrati_nextgen/modules/nextgen_basic_tagcloud/package.module.nextgen_basic_tagcloud.php
on line
183
Warning
: preg_match(): Compilation failed: invalid range in character class at offset 34 in
/var/www/labor.c3.hu/wp-content/plugins/nextgen-gallery/products/photocrati_nextgen/modules/nextgen_basic_tagcloud/package.module.nextgen_basic_tagcloud.php
on line
183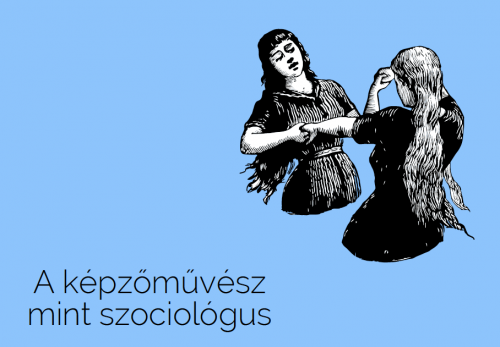 What Kind of Creature is an Artist?
☞ The 2016 Traditional Annual Exhibition of the Studio of Young Artists' Association (SYAA) ☜
We continue our exhibition series with the next shows in Labor and Kisterem gallery, where we present the "sociologist / politologist / activist" and "urbanist" artists of the SYAA.
Exhibitors at Labor:
Default Productions, Roland FARKAS, Judit FISCHER, Kitti GOSZTOLA, Judit Lilla MOLNÁR, Ildikó PÉTER, Zsuzsanna SIMON, Rita SÜVEGES, Eszter SZABÓ, Szacsva y Pál, Boglárka ZELLEI
Exhibitors at Kisterem:
Ágnes BÁSTHY, Judit FISCHER, Gruppo Tökmag, Andi SCHMIED, Júlia VÉCSEI
Special thanks: Kisterem
When describing the work of contemporary artists, critics often use similes, likening artistic methods to those of professions outside the creative sphere. This helps understanding, as it were, when the word 'artist' is no longer sufficient for the ends of description or analysis. No wonder, since 'artist' is such an elusive term, and defining it is no easy task.
Let's say it out loud: artist. At one point, the first image that occurred when hearing the word may have been Pablo Picasso in his dingy Parisian attic… We have perhaps moved on, mixing in memories of aquarelles of arts & crafts classes, first impressions of Jeff Koons or Cicciolina – though none of that brings us closer to a definition.
Perhaps the only specific detail we can come up with is that someone who self-defines as an artist puts herself squarely in the company of journalists and teachers, the intelligentsia in other words – a class that bears some approval from society – though even in that group, artists are somewhat marginal.
It is an understandable need on the part of critics and theorists to refine this one-word definition so loaded with dubious connotations. This is why we so often come across similes likening artists' methods to non-artistic pursuits.
The aim of the 2016 annual exhibition of the Studio of Young Artists' Association (fkse) is to showcase the work of the Association's members with a special emphasis of their individual methods in a selection displayed at five venues.
What does an artist do?
What are the artist's every-day roles?
What roles does she choose for herself?
What roles are endowed upon her?
What roles are forced on her?
What roles are just for show?
What kind of creature is an artist?
ARTISTS:
Anna ÁDÁM – GRAY BOX PROJECTS, Ádám ALBERT, Zsolt ASZTALOS, Máté BARTHA, Anna BARNAFÖLDI, Ágnes BÁSTHY, Márta CZENE, Ádám DALLOS, DEFAULT PRODUCTIONS, Sári EMBER, Andrea FAJGERNÉ DUDÁS, Viola FÁTYOL, Roland FARKAS, Judit FISCHER, Zsuzsi FLOHR, Kitti GOSZTOLA, GRUPPO TÖKMAG, Tamás JUHÁSZ, Patrícia KALICZKA, Gábor KEREKES, Zsófia KERESZTES, Botond KERESZTESI, Olga Piroska KOCSI & Péter István VARGA, Csenge KOLOZSVÁRI, Judit Emese KONOPÁS & Jérôme LI THIAO TÉ, Olívia KOVÁCS, Gábor KRISTÓF, Áron KÚTVÖLGYI-SZABÓ, Henrik MARTIN, Judit Lilla MOLNÁR, Zsolt MOLNÁR, Mózes Márton MURÁNYI, György ORBÁN, Ildikó PÉTER, Klára RUDAS, Zsuzsanna SIMON, Dorottya SZABÓ, Eszter SZABÓ, Szacsva y Pál, Andi SCHMIED, Loránd SZÉCSÉNYI-NAGY, Zsófia SZEMZŐ, Rita SÜVEGES, Gábor Csongor SZIGETI, Dominika TRAPP, Júlia VÉCSEI, Boglárka ZELLEI, Dia ZÉKÁNY
VENUES:
• Studio Gallery & Studio #2 – 35 Rottenbiller Street, District 7, Budapest
Opening: Thursday, 14 April at 7pm
Opening speech by Tamás Seregi
Open from 15 April to 23 April 2016
Closing event: Saturday, 23 April at 6pm
• Artbázis – 25 Horánszky Street, District 8, Budapest
Opening: Tuesday, 19 April at 7pm
Open from 20 April to 29 April 2016
Closing event: Friday, 29 April at 4pm
• 115-106 Apartment-gallery – 3rd floor, 27 Katona János Street, District 13, Budapest (ring #12)
Opening: Tuesday, 26 April at 7pm
Open from 27 April to 6 May 2016
Closing event: Friday, 6 May at 6pm
• Kisterem Gallery – 5 Képíró Street, District 5, Budapest
Opening: Tuesday, 3 May at 7pm
Open from 4 May to 13 May 2016
Closing event: Friday, 13 May at 6pm
• Labor Gallery – 6 Képíró Street, District 5, Budapest
Opening: Tuesday, 3 May at 8pm
Open from 4 May to 13 May 2016
Closing event: Friday, 13 May at 6pm
CURATED BY:
Anna JUHÁSZ, Emese MUCSI, Eszter ŐZE
GRAPHIC DESIGN:
Robin KOSNAS
PHOTOS:
BARTHA Máté