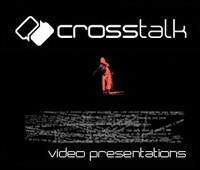 Monthly one videoartist will be invited.
The aim of this program is to promote hungarian and external video artists and to help video art to became part of the art commerce in Hungary too.
Invited Artists: Conor Kelly (UK), Christy Johnson (USA), Csernák Boldizsár (HU), Koroknai Zsolt (HU)
Conor Kelly Londonban élő művész. Hanggal, filmmel és videóval dolgozik. Bell Helicopter nevű cégével zenei és egyéb projekteken dolgozott a kreatív szakmában a kora-kilencvenes években. Zeneszerzőként és hanggal foglalkozó művészként számtalan művésszel, filmessel és színházi rendezővel dolgozott együtt. Hangforrásokból származó ötletekkel dolgozik. Érdeklődése a látási-hallási átfedések területére koncentrálódik. Arra a pontra, ahol a kép és a hang megkülönböztetésének képessége lecsökken, ahol a látás és a hallás Venn Diagramm-jai, a rögzített és az élő események átfedik egymást, illetve összemosódnak.
Christy Johnson los angeles-i születésű, Londonban élő művész és egyetemi előadó. A képzőművészeti végzettséggel rendelkező Johnson interdiszciplináris művészeti gyakorlata kiterjed a mozgóképre és a fotóra. Készít művészkönyveket, foglalkozik public art- tal, installációkat és múzeumi intervenciókat hoz létre. Johnson szakterületei az identitás és a test; a nemi szerepek rituális összefüggésekben való vizsgálata; a dokumentálás és narratív struktúrák kapcsolatainak kutatása; gyűjtés, gyűjtemények és a talált anyagok mozgósítása; az archiválás, mint "élet"-folyamat, aktiválási tér; és az emlék témái.
Csernák R. Boldizsár 2006 óta Londonban él. Videoklippek készítése és VJ-zés (VJ BoldEazy) után, kapcsolatba került Ladjánszki Márta táncos, koreográfussal. Munkája középpontjában a test, a lélek és a tér áll. Témája gyakran a női test és mozgása, tér-használati sajátosságai. Gyakran táncosokkal, koreográfusokkal és mozdulatművészekkel dolgozik együtt.
Koroknai Zsolt az utóbbi tíz évben videóinstallációkat készít, az elektrográfia kísérleti területeivel foglalkozik, szoros kapcsolatban van a kortárs táncművészettel több, mint tíz színházi darabban készített videó alapú tereket. Videóműveiben nagy hangsúlyt fektet a zene komponálására, kiállított hang objekteket, épített art-brutál zenei hangszereket. Szakterülete a szakrális médium. Művészete a land art művektől az intermediális felületekig terjed.
Supporter: FKSE, Labor, Cyber Dürer, BB
Further information:
http://www.crosstalk.hu/2009_site/2009_video_en.html
or Adrien Török: adrien.torok@gmail.com