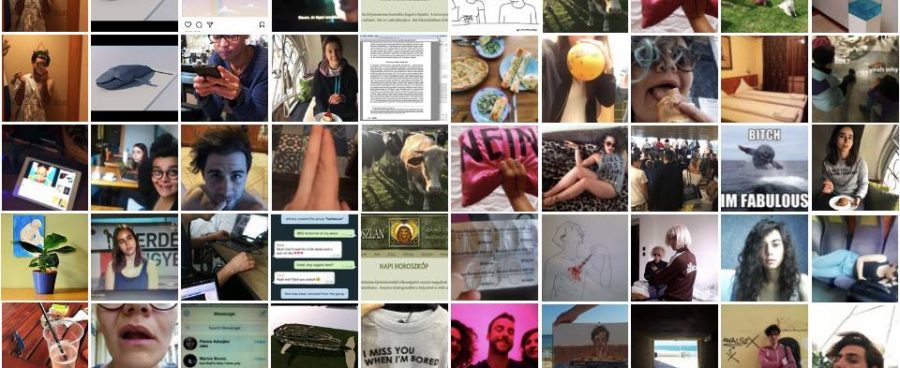 Works by: Zenkő Bogdán, Adorjáni Panna, Roland Korponovics, Sándor Márkus
I feel that we only need to take care of each other now and everything will be
2 Budapest Bottom Boys and 2 Romanian Boss-Ass Bitches
Zenkő:
All the marks, all the scars, all the clues with all the cues, anything that makes you feel alive. Body shop, soul market, thinking that you know, knowing that you think. Too much. Make a list, check it twice, find out whether you are naughty or nice.
#marks #scars #clues #alive #bodyshop#soulmarket #overthinking #spam #naughty
Panna:
Pictures of people. Things that belong to people. Collections of identities, words, faces. The urge of storytelling. The luxury of narrating yourself onto the white walls of the gallery. The personal story, the private space stubbornly fights its way in front of the public. The desire for a broader interpretation.
Sanyi:
If only I could openly talk about what I really want to discuss right now. But unfortunately it is impossible. My installation talks on my behalf. This hurts. This hurts. I'm ok.
Roland:
I am thinking about the four of us, who we are and which were those ratios and roundings in each other's memories that became the common denominator of our intentions, both emotionally and professionally, to achieve this mutual exchange (to share knowledge, experience, secrets and values), through which we think about ourselves as a team.
Looking at the exhibited works, I unwillingly feel the pressure of the different contexts and narratives of contemporary art, while actually all these works are also simply torn pages from our personal survival strategy books. The desire to position ourselves both professionally and existentially within the necessity of a critical system – its solving formula nonetheless lies mostly in our common sense of humour also reflects upon the boarder generational dynamics of our stories.
UNIVERSAL PLEASURE FACTORY
www.universalpleasurefactory.tumblr.com
Támogató: NKA