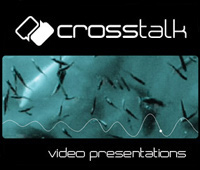 Monthly one videoartist will be invited.
The aim of this program is to promote hungarian and external video artists and to help video art to became part of the art commerce in Hungary too.
Third invited artist: Júlia Vécsei
Vécsei Júlia médiaművész. 1991-1995 között a budapesti Képző- és Iparművészeti Szakközépiskola fotó szakos hallgatója majd 1996-ban felvételt nyert a Magyar Képzőművészeti Egyetem Intermédia szakára. 2001-ben médiaművészként diplomázott. 2002 és 2004 között a Magyar Iparművészeti Egyetemen művészeti menedzsernek tanult.
Derkovits ösztöndíjas, a Cora áruház pályázatának, Magyar Képzőművészeti Főiskola; Glatz Oszkár Alapítványi díjazottja; C3 Kulturális és Kommunikációs Központ ösztöndíjasa, a Fiatal Képzőművészek Stúdiója Egyesület elnöke.
2007 májusában elindítja a ZINE, "RAJZLAP/DRAWING-PAPER" című nagyszabású projektjét: "A rajz területén alkotó képzőművészeket kérek fel, hogy egy-egy számot hozzanak létre. A sorozatnak évente 6 száma jelenik meg, az első hat kiadvány alkotói fiatal művészek. A rajzlap korlátozott példányszámú. A zine magánkezdeményezésben valósul meg."- Vécsei Júlia
Further information:
http://www.crosstalk.hu/2009_site/2009_video_en.html
or Adrien Török: adrien.torok@gmail.com