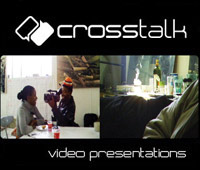 Monthly one videoartist will be invited. The aim of this program is to promote hungarian and external video artists and to help video art to became part of the art commerce in Hungary too. Fourth invited artist: Lászó László Révész 1981-ben végzett a Magyar Képzőművészeti Főiskola festő, 1985-ben pedig a Magyar Iparművészeti Főiskola, animációs film szakán. 1978-1986 között tagja volt az Indigo csoportnak. 1990-ig Böröcz Andrással készített dadaista, intellektuális performanszokat. 1990-től a festészet és a film válik meghatározóvá művészetében. Festészete a 80-as évek narrativitását alakítja át egyfelől a klasszicizáló kompozíció irányába, másfelől ezeket a motívumokat felhasználva kialakítja újszerű combined painting módszerét. Ennek alapelve a párhuzamos érzékelés, az egymás mellé
helyezett képek montázsa, hasonlóan a számítógép képernyőjén egymásra nyitott ablakokhoz vagy az ikonosztázhoz. Míg az ikonosztázon a képek folyamatosak, képein a hiány egyenrangúan fontos alkotóelem. Filmjei, videói festészeti témáinak változatai, melyekben ugyanúgy a narrativitás és a párhuzamos érzékelés a központi elem. Further information: http://www.crosstalk.hu/2009_site/2009_video_en.html or Adrien Török: adrien.torok@gmail.com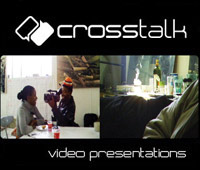 Monthly one videoartist will be invited.
The aim of this program is to promote hungarian and external video artists and to help video art to became part of the art commerce in Hungary too.
Fourth invited artist: Lászó László Révész
1981-ben végzett a Magyar Képzőművészeti Főiskola festő, 1985-ben pedig a Magyar Iparművészeti Főiskola, animációs film szakán.
1978-1986 között tagja volt az Indigo csoportnak. 1990-ig Böröcz Andrással készített dadaista, intellektuális performanszokat. 1990-től a festészet és a film válik meghatározóvá művészetében.
Festészete a 80-as évek narrativitását alakítja át egyfelől a klasszicizáló kompozíció irányába, másfelől ezeket a motívumokat felhasználva kialakítja újszerű combined painting módszerét. Ennek alapelve a párhuzamos érzékelés, az egymás mellé helyezett képek montázsa, hasonlóan a számítógép képernyőjén egymásra nyitott ablakokhoz vagy az ikonosztázhoz. Míg az ikonosztázon a képek folyamatosak, képein a hiány egyenrangúan fontos alkotóelem.
Filmjei, videói festészeti témáinak változatai, melyekben ugyanúgy a narrativitás és a párhuzamos érzékelés a központi elem.
Further information:
http://www.crosstalk.hu/2009_site/2009_video_en.html
or Adrien Török: adrien.torok@gmail.com