Warning
: preg_match(): Compilation failed: invalid range in character class at offset 34 in
/var/www/labor.c3.hu/wp-content/plugins/nextgen-gallery/products/photocrati_nextgen/modules/nextgen_basic_tagcloud/package.module.nextgen_basic_tagcloud.php
on line
183
Architectures of Discourse – exhibition as communicative space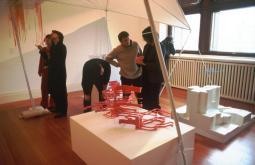 The seminar "Architectures of Discourse" will focus on the construction and production of communicative spaces and discuss a curatorial approach that is embedded in theory and practice. We will investigate how power and authority, and symbolic and real capital, are accumulated within the cultural field and the way this relates to gender, ethnicity and class. The point of departure will be exhibitions curated by Ute Meta Bauer: Section "?"/NowHere, Louisiana Museum of Modern Art, Humlebaek (1996) and Architectures of Discourse, Fundació Antoni Tápies, Barcelona (2001), both co-curated by Fareed Armaly; First Story – Women Building/New Narratives for the 21st Century, Porto 2001 – Cultural Capital of Europe (2001); 3rd berlin biennial for contemporary art, KW Institute for Contemporary Art, Martin-Gropius-Bau, Kino Arsenal, Berlin (2004); and Mobile_Transborder Archive, a scenario project commissioned for inSite 2005 San Diego – Tijuana (2005.)
These exhibitions were developed in close collaboration with the participants from the early concept to its translation into a spatial narrative. We will also look into the publications as they function as part of the exhibition. Last but no least, we will discuss some of the media reactions to these projects.
To take part in the seminar, please send a motivation letter to the office@tranzitinfo.hu address until January 5. Participation in the seminar is free.
Ute Meta Bauer is an Associate Professor and the Director of the Visual Arts Program at the Massachusetts Institute of Technology in Cambridge, Massachusetts. From 1996 to 2008, she was a Professor of Theory, Practice and Transfer of Contemporary Art at the Academy of Fine Arts in Vienna. For more than two decades she has curated exhibitions and presentations on contemporary art, film, video and sound with a focus on transdisciplinary formats linked to feminist and socio-political contexts. Bauer has served as the director for various institutions such as Kuenstlerhaus, Stuttgart, and the Office for Contemporary Art in Norway. She is currently a member of the Governing Board of n.b.k. Berlin; the Scientific Advisory Board of the International Bauhaus Foundation Dessau, Germany; and LABoral Center for the Arts and Industrial Creation in Gijon, Spain.
Bauer was also the Artistic Director of the 3rd berlin biennial for contemporary art and was a co-curator of Documenta11, along with the Artistic Director Okwui Enwezor. Her curatorial work includes section"?" /NowHere at the Louisiana Museum of Modern Art in Humlebaek, Denmark (1996), and Architectures of Discourse for the Fundació Antoni Tàpies in Barcelona, Spain (2001). Both were co-curated by Fareed Armaly. She also curated First Story – Women Building/New Narratives for the 21st Century for the European Cultural Capital Porto 2001 and the Mobile_Transborder Archive on transborder issues commissioned by curator Osvaldo Sanchez for inSite 05 San Diego/USA -Tijuana Mexico. In 2008, she was the director of What's left? What remains? – SITAC VI, Simposio Internacional de Teoria Sobre Arte Contemporáneo, which took place at the Centro Cultural de Tlatelolco in Mexico City.
Bauer was a founding editor and publisher of several periodicals in the field of contemporary art: META 1 – 4 (Stuttgart 1992-94), case (Barcelona 2001, Porto 2002) and Verksted # 1- 6 (Oslo 2003-2006). She also produced two issues of regina magazine (Stuttgart 1994, Oslo 2005) by the artist Regina Moeller. Bauer studied visual communication and stage design at the Hochschule für Bildende Künste Hamburg (Academy of Fine Arts Hamburg) followed by postgraduate studies in art theory at the same school.