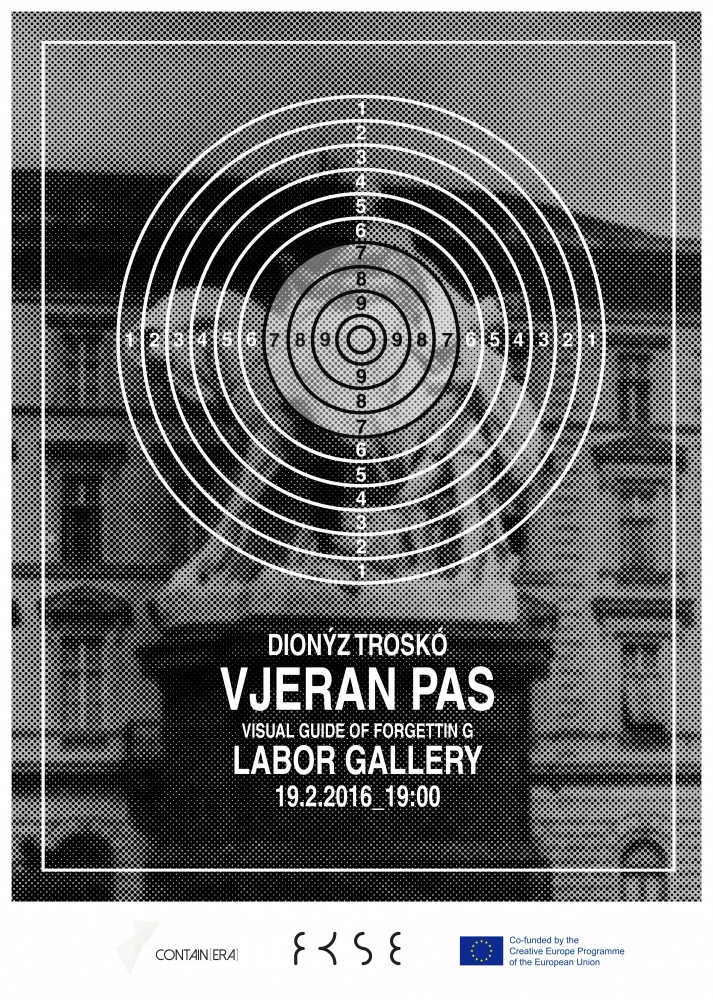 Opening: 19th February 2016.
Opening event: guided tour by Beata Jablonska, Slovak curator and Dionỳz Troskó
Project coordinator: Bea Istvánkó
On view: 20th February – 3rd March 2016.
Opening hours: Mo-Sat 4pm-7pm
The exhibition Vjeran pas* (Loyal Dog – Visual Guide of Forgetting) is about historical monuments; destroyed and forgotten monuments, about modified monuments and about public spaces which are continuously meaningfuls for the prevailing political systems therefore building, replacing or demolishing the memorials is a common practice.
Dionỳz Troskó (SK), focuses on three emblematic memorial locations, which are demonstrating the peculiar relationship of the Slovak and the Hungarian history. Based on the above-mentioned three categories the Hungarian-born Troskó, with the language of contemporary sculpture, is reflecting on the Millennium monument demolished after the Treaty of Trianon in the castle of Devín, on the continuously modified Zobor hill monument next to Nitra and on the three successive representative monument of the Ľudovít Štúr Square (former Coronation hill Square) in Bratislava.
Out of the five selected monuments by Troskó the Devín and the Zobor hill memorials are both part of the series of seven sculptures which was ordered by the Hungarian Wekerle government to the Millennium celebrations in 1896. The plan of the monuments was created by Gyula Berczik, Architect and Technical Counsellor, not by a professional sculptor which suggests that the primary inspiration was to communicate a political message. The third location chosen is the Ludovít Štúr square in Bratislava with the monument of Maria Theresa from 1897, after with the General Štefánik statue of Milan Rastislav from 1938 and finally with the Ludovít Štúr sculpture from the seventies. The idea of the reconstruction of the Maria Theresa monument came up in 2009, but was rejected in 2012 by the city council.
Troskó with his large scale metal sculptures, made specifically for the exhibition, reflects on the phenomenon that the change in the political system is associated with the physical deconstruction of the symbols of the past, or at least with their transformation according to the preferences of the actual regime.
* Vjeran pas: song title of the Croatian emblematic punk band called Termiti from the 1970s. Vjeran pas means loyal dog.
Dionỳz Troskó's exhibition, Vjeran pas is the closing event of the Contain[era] – Materialized Information Transfer in the Post-internet Era project, funded by the European Union.
Organizers:
http://www.containera.eu/
http://studio.c3.hu/nemzetkozi-kapcsolatok/containera/
http://labor.c3.hu/
Contact:
studio@c3.hu
+36 70 324 47 48